Route length: 2,1 km
Duration: 1,5 hours
Ascent: 293 meters Descent: 35 meters
Route description: Ascent-Difficulty: Very difficult
Recommended to: all mountaineering clubs and individuals with certain experience in mountain trails, ONLY WEARING HELMET
Season: May to October
* The information above is given to reach your destination.
       Probably the most addictive trail for climbers. A lot of dreams, discussions and plans happen for this trail, months before, to manage a successful ascent on the Mytikas summit through Louki.
       Firstly, we have to explain why we divided the route in two parts. As mentioned before, you shouldn't hurry to leave the mountain. Enjoy every moment while breathing oxygen. You will need a day to ascent at Gortsia , next the only thing you can do is rest. The next day, feeling well-rested you can ascend easily to Louki, the highest summit in the country.
       It is certain that everything mentioned above, seem easy BUT this route is considered dangerous as many accidents happened at Louki. So, you should be very careful and keep two things in mind:
1. It's not mandatory to ascend to Louki after reaching it. You should feel ready to proceed. You must take into consideration external factors such as the weather. If it rains or is foggy, the rocks will be slippery, so you shouldn't risk ascending. The mountain will be at its place; you can try next year or at your next visit.
2. The second and most important thing you should do is being alert all time; be responsible and think of the people lining below you. Louki is a straight line and as you ascend other climbers are lining one after another. A wrong move might be fatal. If a rock slides down the hill by your foot, make sure you give a heads up to those following, to be prepared for a possible impact. It might seem "stupid" to shout unexpectedly, but fallen rocks are the most common reason of accidents. It is also very important to wear a HELMET, which will protect you from rock-sliding.
       If you keep always in mind the information mentioned above, getting to know "Mytikas summit through Louki" will be a pleasant experience, which you will be repeating every year. But, if you have a hard time and don't want to ascend at Louki, there is an alternative: ascend to the summit from Kakoskala .
The translation in English was made by " Sidiropoulou Athina " and we thank her, for her help.
General Informations:
       It is a route of 2,1 km total length, all on path, with altitudinal slope (ascent) of 293 meters. The duration of the trail is 1,5 hours. Until Louki the path is very distinct without many, but when starting to ascend KEEP IN MIND TO FAITHFULLY FOLLOW THE SIGNS. Throughout the path there is no mobile service, only on the summits. In general, it is described as a difficult route can be crossed with lots of attention.
USEFUL PHONE NUMBERS:
-European Emergency Number: 112
-Fire Brigade: 199
-E.K.A.V. (Ambulance Help): 166
-Petrostrougkas refuge: +30 23512 00766
-GiososApostolidis refuge: +30 23510 82840
-Chr. Kakkalos refuge: +30 6937 361 889
All the above are summarized in the following chart:
Click on the word "wikiloc" so you can store the route on a Garmin gps device or Androit or Smartphone device. You can also print the information without the illustrations shown below. The tracking of the trail was done using a 650t Montana gps device by Garmin.
The route is also recommended by:
- Petrostrougas refuge : +30 23512 00766 / +30 6977 246 350 Nektarios / +30 6948 821 513 Telemachus
- Giosos Apostolidis refuge : +30 23510 82840/+30 6939 777 064 Tsavdaris Nikos/ +30 6948 043 655 Mpotelis Lazaros
- Christos Kakkalos refuge : +30 6937 361 689 Styllas Michalis
- Sakis Prokovas - Taxi driver : +30 6937 176 867
In particular:
Start from Christos Kakkalos refuge (assuming you spent the night at the most distant refuge of the Plateau) (Image 1)…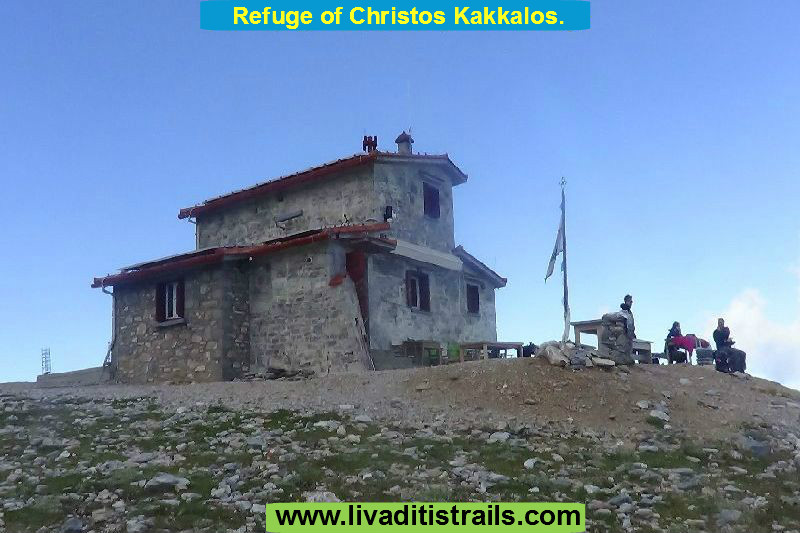 Image 1.
       Following the path, on the left by the refuge, you will arrive at the second refuge in the area, Giosos Apostolidis , in 10 minutes and after walking 400 meters (Image 2)…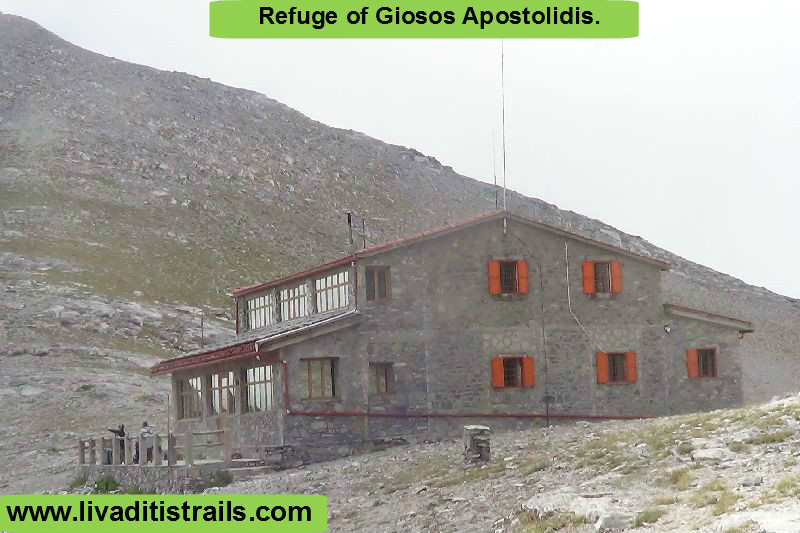 Image 2.
       Pass by the refuge and continue left on the path, which goes through "Portes" and under "Stefani", leading you outside the "Plateau of Muses", you will arrive at a crossroad where starts the "Louki of Mytikas". You will have to walk 1 km and 700 meters (from the Ch. Kakkalos refuge) in about 40 minutes to reach this point, at an altitude of 2.720 meters (Image 3)…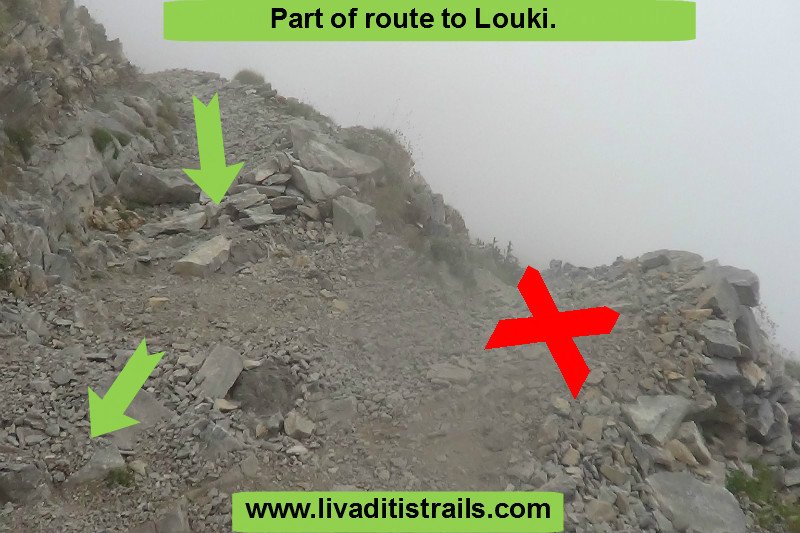 Image 3.
       Now, get ready and wear your helmet (Image 4)…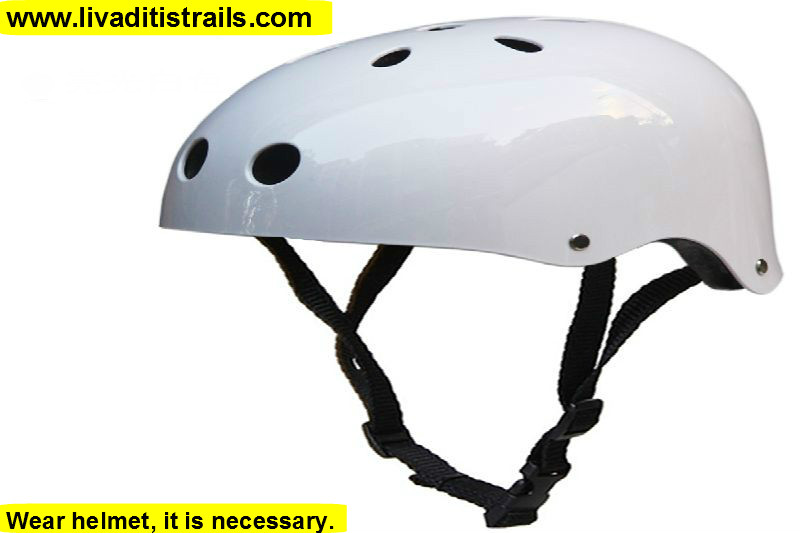 Image 4.
       At the beginning, things are quite easy; the trail itself, as you ascend, gives you the first indications of what lays ahead (Image 5)…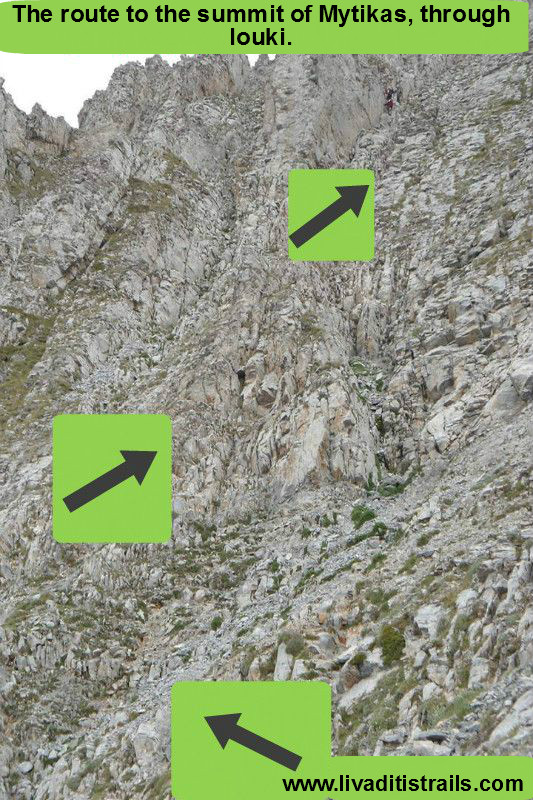 Image 5.
       Looking at your rear, you will easily realise that you gained height quickly and you made a progress in the Louki. So, the next thought is that there is no turning back (Image 6)…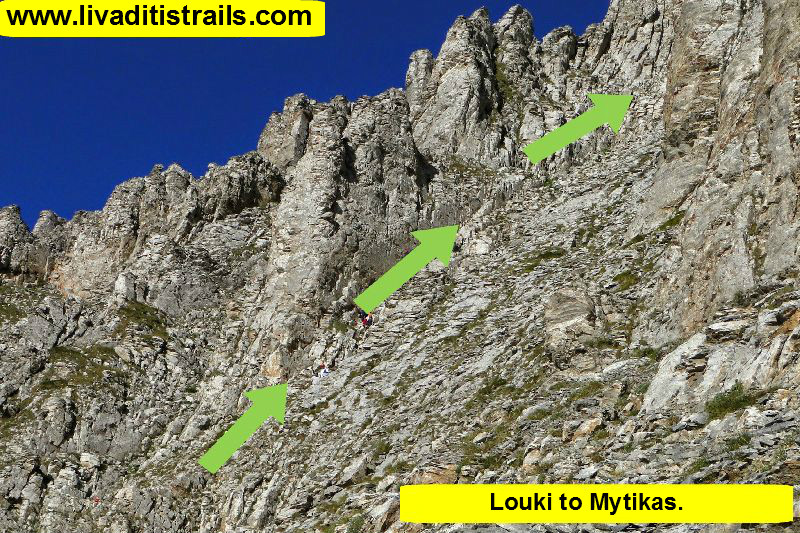 Image 6.
        Following the signs carefully, you will clearly notice the summit, as you ascend (Image 7)…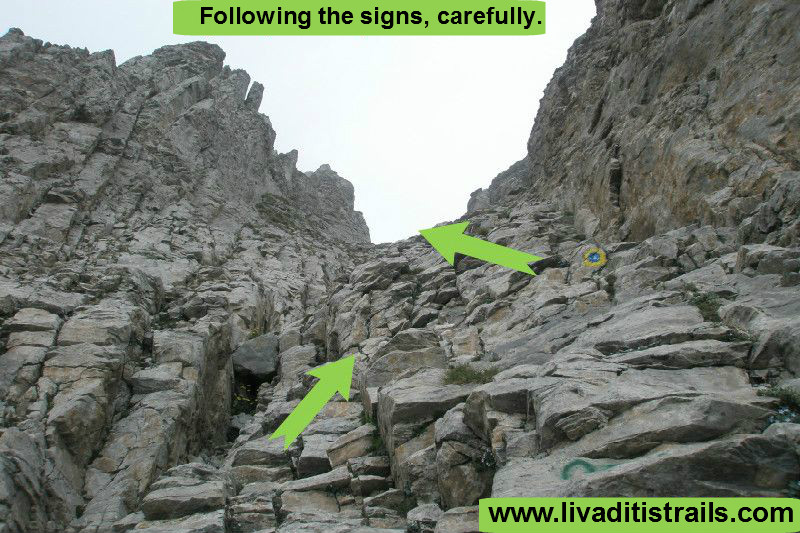 Image 7.
It will take you about 40-50 minutes to climb "Louki" and cross the last 400 meters, to reach the most beautiful summit in our country, Mytikas, at an altitude of 2.918,80 meters (Image 8)…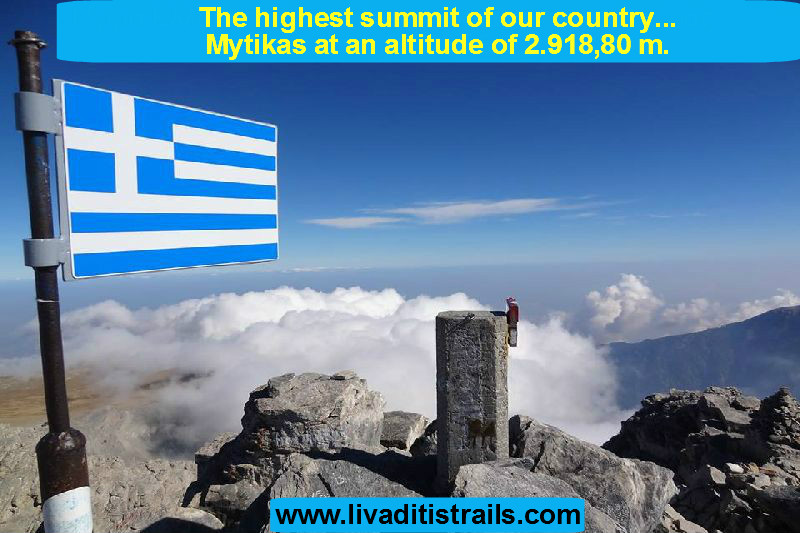 Image 8.
       The route is really addictive, but you mustn't be carried away by its wild beauty. Be prepared and well-equipped, follow faithfully the signs and be very careful, so you can have an unforgettable experience you want to repeat every year.
       The passage of the trail occurred on Saturday 27th August 2016 alongside with the friend and co-mountaineer Kyriakos Ioannidis the same day we gathered all the information that was mentioned, as well as the photographs included in the narrative of the path. We consider ourselves responsible, so we would like to treat those who love Nature and hiking and enjoy learning about new places with the same responsibility. We would also like, if you cross the trail above or any other on our website, to contact us (e-mail: Αυτή η διεύθυνση ηλεκτρονικού ταχυδρομείου προστατεύεται από τους αυτοματισμούς αποστολέων ανεπιθύμητων μηνυμάτων. Χρειάζεται να ενεργοποιήσετε τη JavaScript για να μπορέσετε να τη δείτε.) whether we were accurate on our description or there was a flaw that should be corrected.
Thank you for your trust and for visiting our website.