Route length: 7,4 km
Duration: 6 hours and 20 minutes
Ascent: 1.667 meters – Descent: 118 meters
Route description: Ascent- Difficulty: Very difficult
Recommended to: all mountaineering clubs individuals with great experience in mountain trails
Season: May to October
* The information above is given to reach your destination.
       Another route that has been bothering my mind for quite some time. It's been almost two years sinceI had descended with my family from the Sp. Agapitos refuge and stopped at Dimitris' restaurant in Prionia to have a cup of coffee before we headed for Litochoro. There, we met Michalis Styllas and while we were talking, Dimitris told him "You are late Michalis. What time will you ascend? It is getting darker" ... Michalis' answer stuck in my mind for a long time. "I'll go from Gomarostalos Dimitris, I'll do it in about 3 hours and before night I'll be on the plateau, do not worry."
       Gomarostalos, that night and the morning after its name was lingering in my mind. So shortly after we returned from our holidays, i googled Gomarostalos and learned everything about it. For the next two years (until a while ago) when I was referring to Olympus, that name was always on the tip of my tongue, but I tried to ignore it.
       This summer (of 2018) I spent a lot of time camping with my family and visited many beaches and coasts, which was boring for someone who is used to hiking at higher altitudes. In this case only a visit to the favorite mountain of all Greeks would cure my boredom. My wife, Porfyllidou Ioanna realized that something was wrong with me and told me: "You should visit Olympus, it will help you clear your mind". It was like she could read my thoughts. Without wasting any time, we agreed with Ioanna on which weekend I would go to Olympus, because I did not want to put my family in a lot of trouble in my absence. The following day, I made all the necessary arrangements for the journey with my friend and co-hiker Tekiridis Theodoros and started to count down to Friday 7th September 2018. There are no words to describe the mountains hidden beauties. It was a true revelation for me to discover a new path on Olympus, a TREASURE of history and wildlife. Εvery step you make in your paths compensates for all the fatigue you will feel.
       According to Thodoros, "Gomarostalos" is the area of animal stables used by conductors to take wood to the "Prionia". These places are found at three points throughout the route, as shown in the presentation below. Since Olympus was declared a National Forest, logging stopped in the area and the passage became slowly inaccessible. The first signaling of the route was made by the people of the Hellenic Mountaineering Association of Thessaloniki. Later,Sakis Spanoudis and his company in 2007 began cleaning and marking this route with blue paint, with the help of Michalis Styllas, who in recent years has been responsible for keeping the path "open" for the hikers, taking care of it and cleaning it on an annual basis, mainly from the damage caused by the weather phenomena during the winter. As for Theodoros Tekiridis, he is one of the few people who know the mountain so well. He has crossed all the paths on the mountain and he is pleased to solve any questions you have if you contact him. As it was natural, he made all the arrangements with the company to make the crossing as pleasant as possible. Argyro, Erasmia and Dionysis would complete the company and we would soon begin a difficult 6-hour walk somewhere in the "hollows" of Olympus. So, prepare yourself and let us take you on a mental journey. After you get an idea of ​​what you will come across during the passageyou can get information about the program of the Hellenic Mountaineering Club of Katerini, whose president is Theodoros and following his instructions, start hiking on mountain WITHOUT FEAR!!!
The translation in English was made by " Sidiropoulou Athina " and we thank her, for her help.
General Informations:
       It is a route of 7,4 km total length, all on path, with altitudinal slope (ascent) of 1.667 meters. The duration of the trail is 6 hours and 20 minutes. There are sings throughout the trail while at crossroads there are signs which inform you where each path leads and which you should follow to reach your destination. Throughout the path there is no mobile service. In general, it is described as a route of great difficulty and with a little attention it can be crossed by individuals with great experience in mountain trails.
Useful Phone Numbers:
- European Emergency Number: 112
- Fire Brigade: 199
- E.K.A.V. (Ambulance Help): 166
- Sp. Agapitos refuge: +30 23520 81800
All the above are summarized in the following map:
Click on the word "Wikiloc" on the upper right corner of the map so you can store the route on a Garmin gps device or Androit or Smartphone device. You can also print the information without the illustrations shown below. The tracking of the trail was done using a 650t Montana gps device by Garmin.
The route is also recommended by:                    
 - The restaurant at Prionia, Olympus (tel. +30 6932 484 868, +30 23520 83093) Kyritsis Dimitris
- Giosos Apostolidis refuge: +30 23510 82840 /+30 6939 777 064 Tsavdaris Nikos/ +30 6948 043 655 MpotelisLazaros
- Chr. Kakkalos refuge: +30 6937 361 689 Styllas Michalis
- Prokovas Sakis, taxi driver (+30 693 717 6867)
   In Particular:
       Starting from Litochoro in Pieria, follow the road signs and after 17 km you will arrive at "Prionia" at an altitude of 1.075 meters, where you can park your car and slowly get ready for hiking. There, you will notice a wooden house which is the restaurant of Kyritsis Dimitris with excellent cuisine and its famous bean soup. Leaving the restaurant, you will see in front of you the parking area; about halfway turn left between the parked cars (the beginning of the path is hidden amongst the parked cars most of times) to find the path (Image 1)...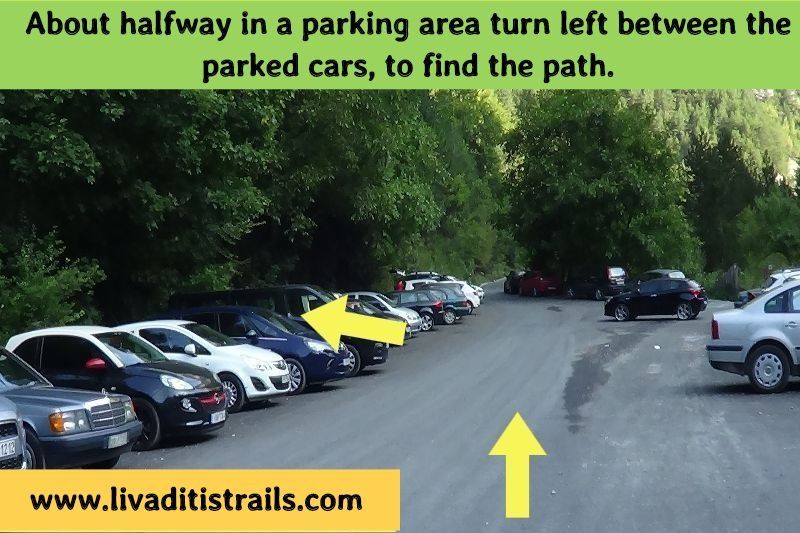 Image 1.
       From an early beginning you will understand that the path is very difficult. The big slope begins immediately, and it continues, with only a few exceptions, up to the plateau (Image 2)...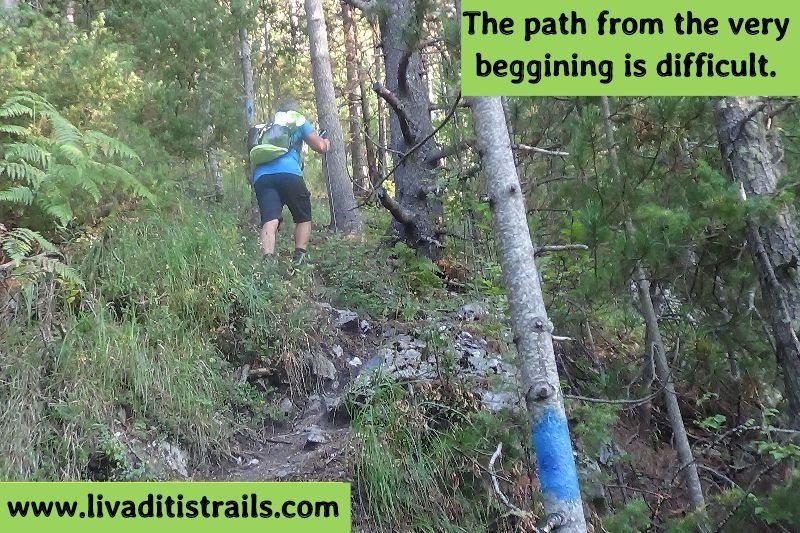 Image 2.
       The markings are clearly visible, you must follow the blue marks on trees at first and then on stones (Image 3)...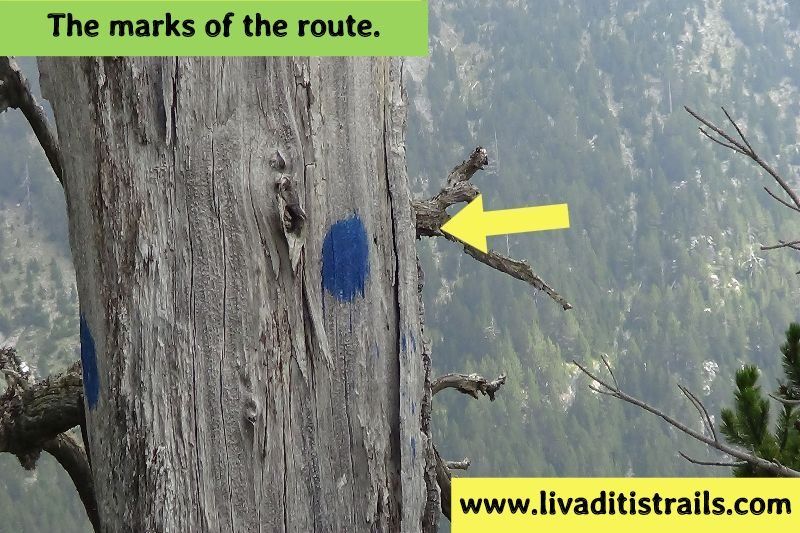 Image 3.
       In about an hour and thirty minutes, after you have walked 2,5 kilometers at an altitude of 1.595 meters, you will come across a sign that says "KOFTO". Be careful not to follow the "Kofto" route that goes from the Spilios Agapitos shelter to the shelter of "Kakkalos" on the plateau but the route from there, which goes straight to the first Gomarostali through a very vertical route (Image 4)...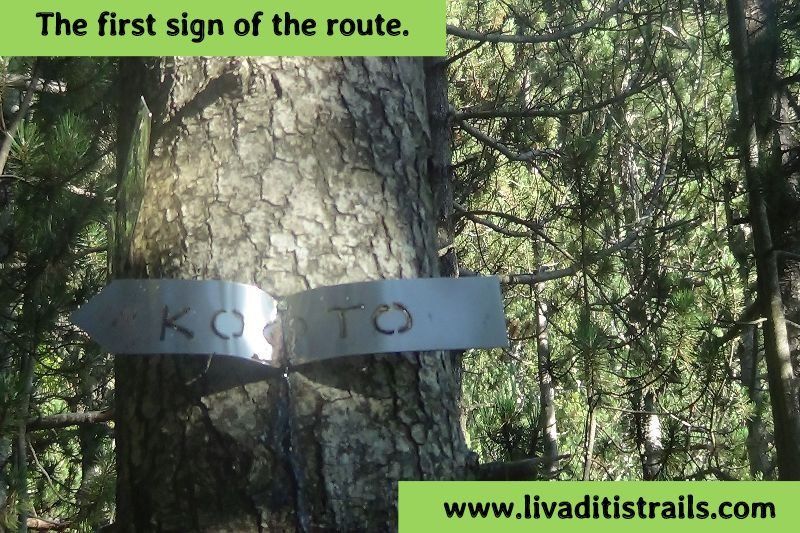 Image 4.
       After 400 meters, about 15 minutes later and at an altitude of 1.690 meters, you will reach a junction known as "Tristrato", because it leads to three destinations. The first destination is to the Petrostrougas refuge, to which you must continue right, the second is toMavrologos and the Agapitos refuge and a third destination is to the Plateau from Gomarostalos. For the second and third routes you must continue walking to the left (Image 5)...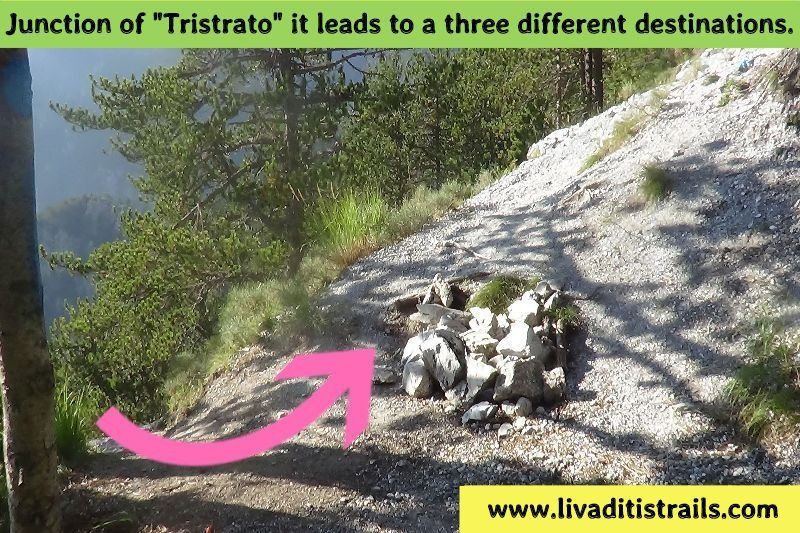 Image 5.
       40 minutes later and after 900 meters of walking, you will arrive at a junction from where you have to turn right to continue your route to Gomarostalo, at the clearing that is just above at an altitude of 1.780 meters you will reach the first Gormostali used by the old loggers in the area to rest their animals (Image 6)...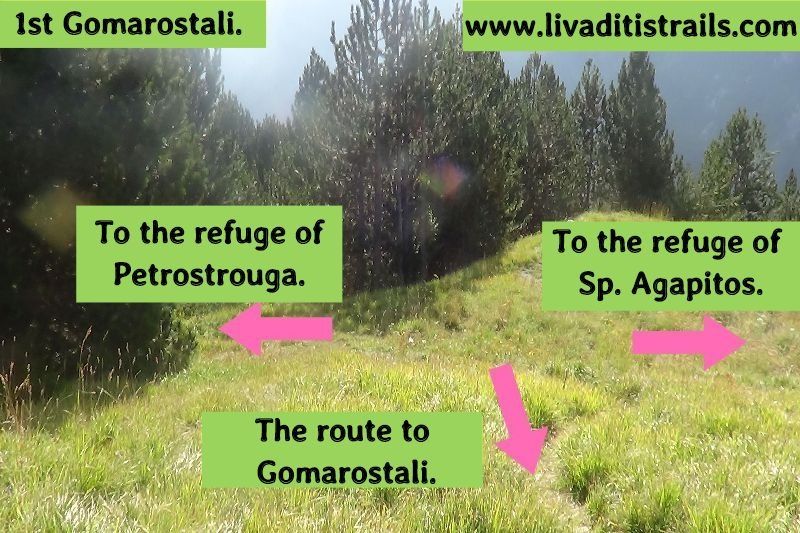 Image 6.
       While walking through the forests of Olympus you realize how small a person is compared to the magnificence of Nature and it is even more valuable that this is done in the Divine and more historic mountain of our country (Image 7)...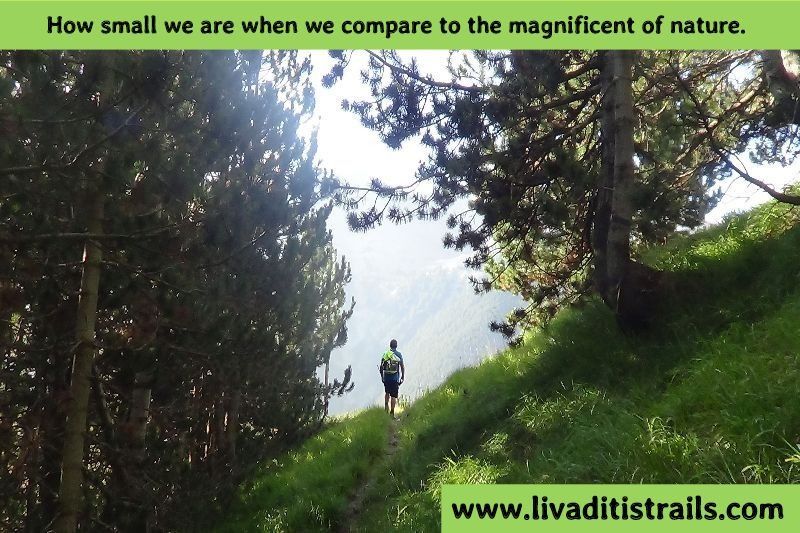 Image 7.
        From the first Gomarostali you can gaze upon some of the 55 peaks of Olympus such as "Metamorphosis" and "Kakavrakas" (Image 8)...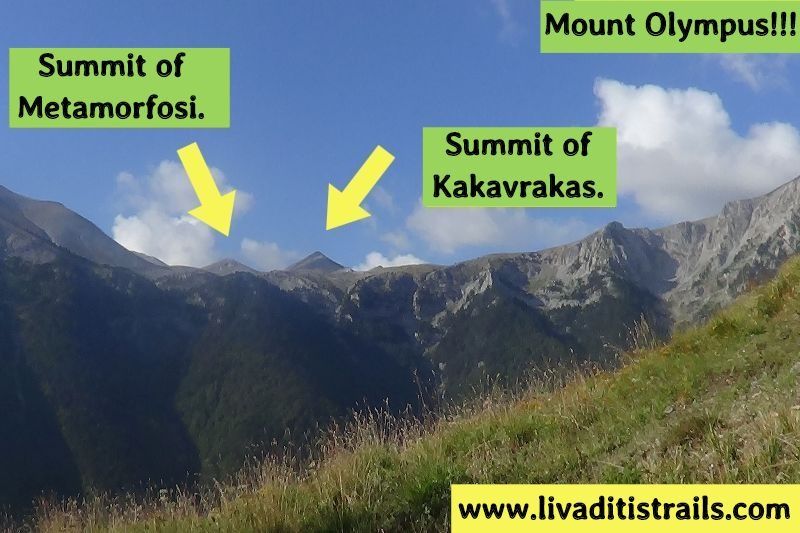 Image 8.
       After a short break for rest, continue your ascending path to the plateau, passing through the second Gomarostali, you will have to walk for another 700 meters and about 50 minutes later you will reach that point at an altitude of 2.035 meters (Image 9)...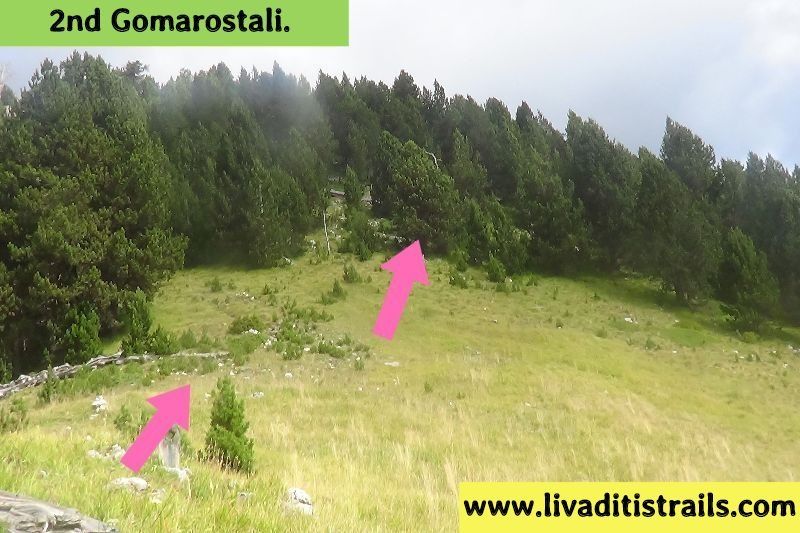 Image 9.
       Your next stop is the third Gomarostali at an altitude of 2.130 meters after another 700 meters of walking and 25 minutes later (Image 10)...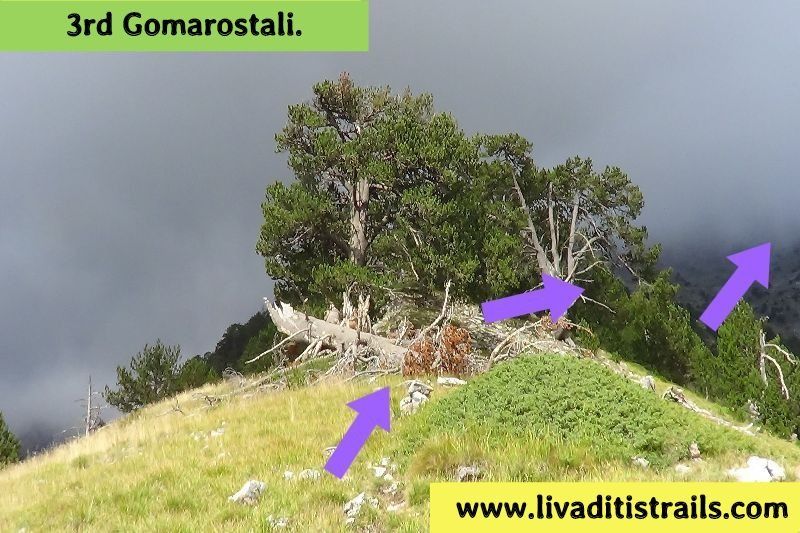 Image 10.
       Right after the third Gomarostali, after you climb up this "small" hill, youwill feel relieved as soon as you finally walk on level ground (Image 11)...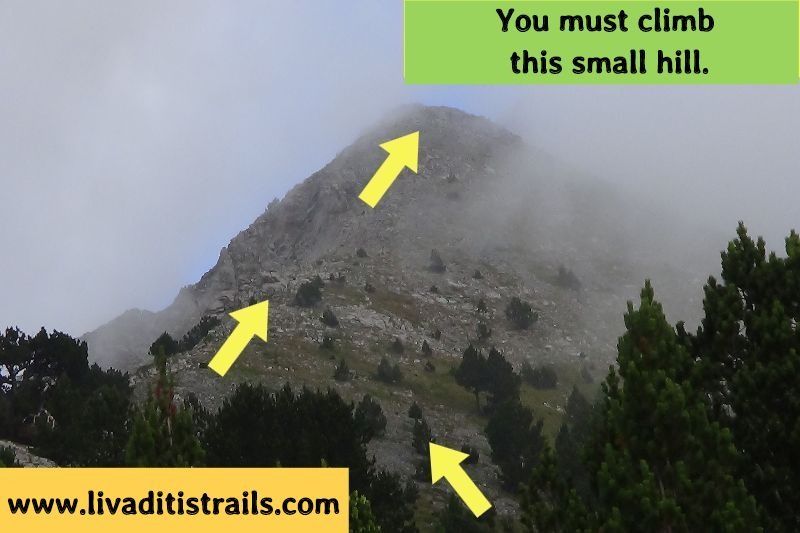 Image 11.
       As you ascend you can see on your right the Skourta and the Laimos summits, which you will come across as you ascend from Gortsia to the Plateau of Mouses (Image 12)...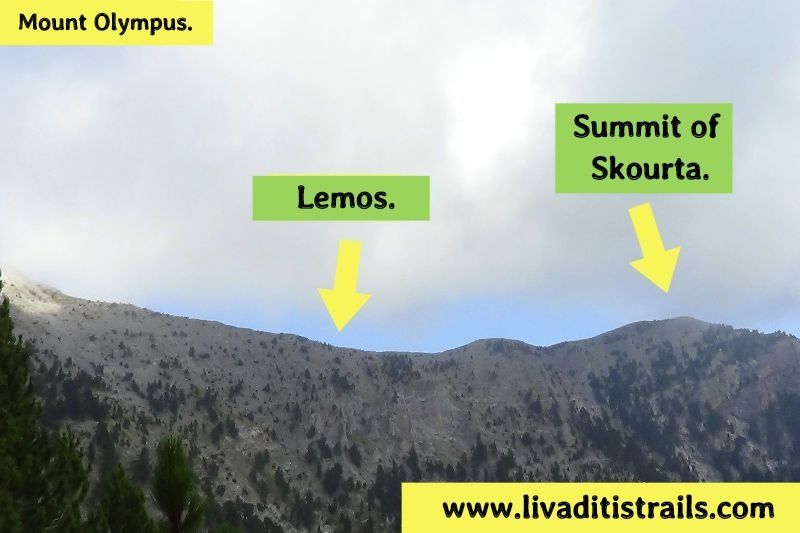 Image 12.
       The route from the third "Gomarostali" to the point where the ropes begin just before the plateau and with a little imagination (due to fog) is somewhat like this (Image 13)...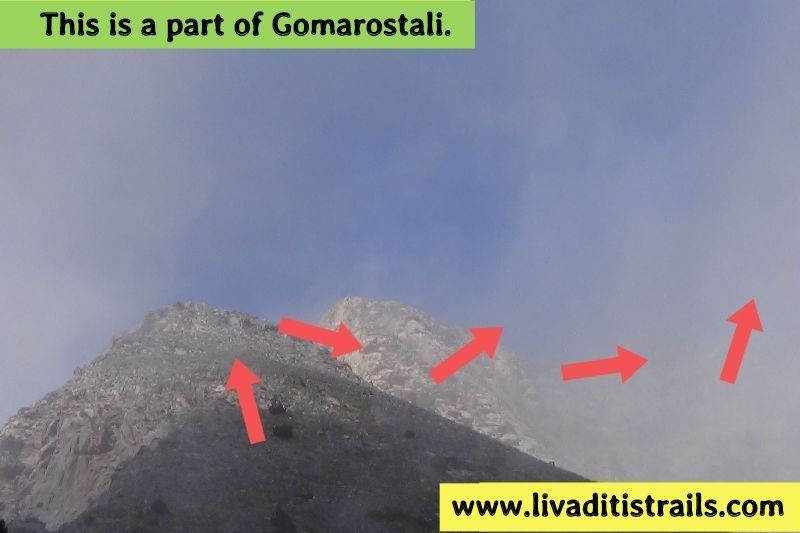 Image 13.
       To reach the ropes you will need to walk 1km and 100 meters in 1 hour and 20 minutes (the strength his reduced due to fatigue) at an altitude of 2.520 meters (Image 14)...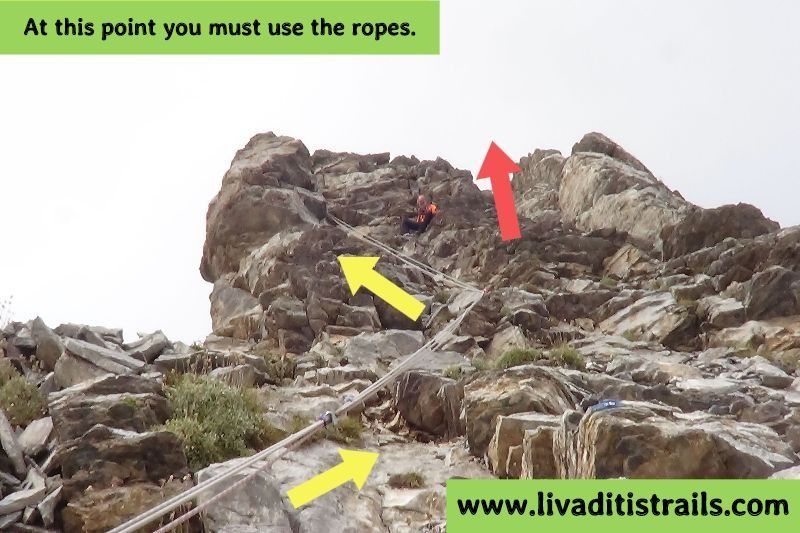 Image 14.
       I am not writing more about the point you need to climb using the ropes. When you reach this point, you need to take deep breaths to overcome any fear and know that after crossing this area using the ropes, which will take you about 45-50 minutes if you are many people, you reach the plateau; remember two things:
- You have to trust the ropes and climb giving everything you have holding only these ropes. Do not try to do something else with one hand on the ropes and with the other looking for other ways to help your body. This way the risk of injury increases.
- There must be one person between each link. Each time you cross a link, call to the next person to start. In this way you avoid the possibility of two people using the same rope length and someone being forced to use the rope in the opposite direction than the one he/she wants to go, and it is convenient for him/her to climb the rock.
       So, after 50 minutes on the rocks you go directly to the plateau, at an altitude of 2.625 meters and after walking only 400 meters (Image 15)...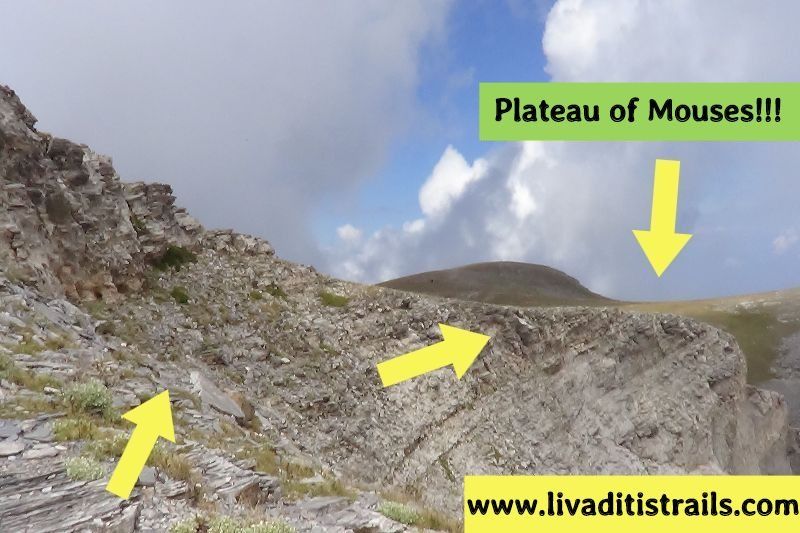 Image 15.
       The view you will see when you climb the rocks, as shown below, is shocking (Image 16)...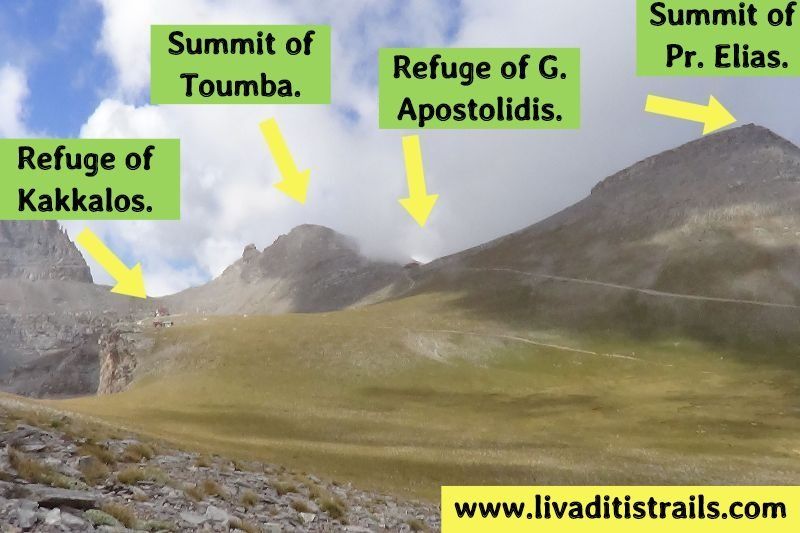 Image 16.
       On your left there is Kalagia 1 summit at an altitude of 2.640 which you will reach after 50 meters and 5 minutes of walking (Image 17)...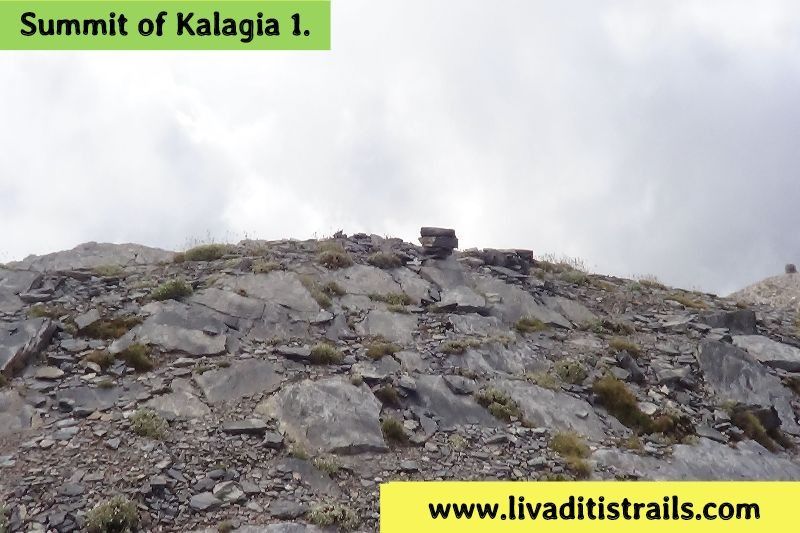 Image 17.
       After 250 meters and 15 minutes of walking you will reach the Kalagia 2 summit at an altitude of 2.637 meters (Image 18)...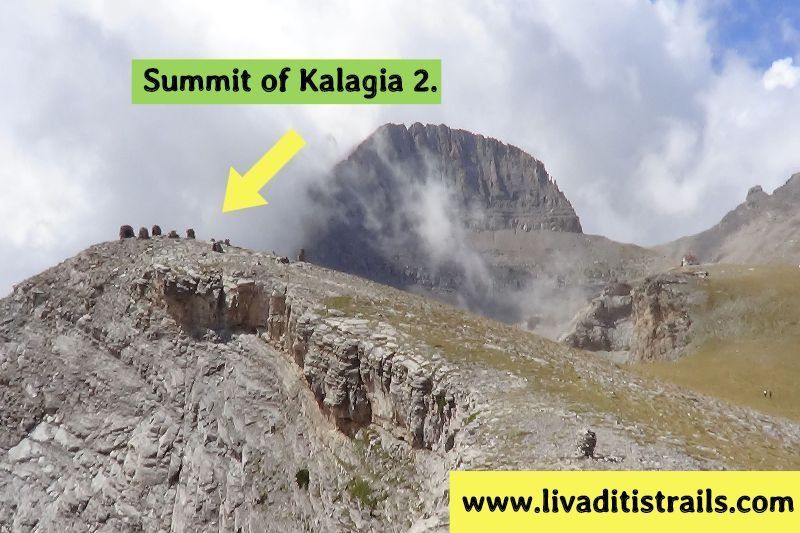 Image 18.
        ... where in case of bad weather there are small makeshift emergency shelters (Image 19)...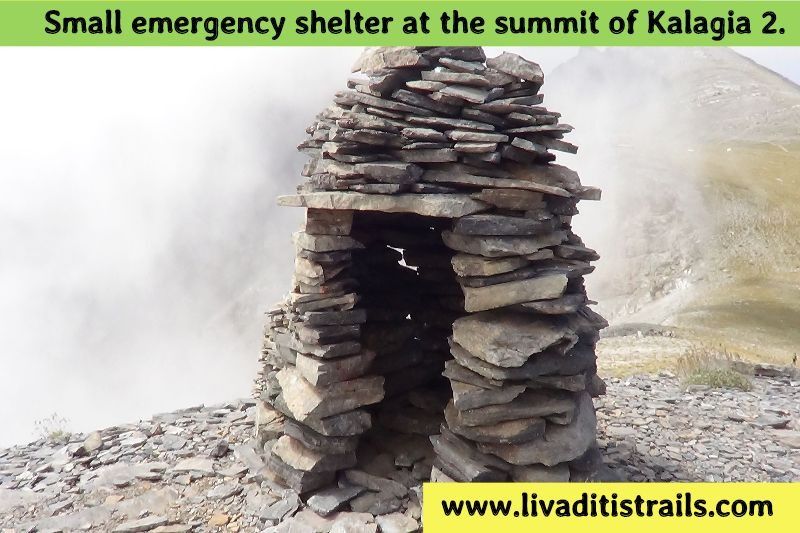 Image 19.
       Finally, there are only 400 meters left, about 10 minutes to get to Chr. Kakkalos refuge at an altitude of 2.648 meters (it is mentioned because it is the closest one) or to Giosos Apostolidis, which is located just above, to take a break and relax with a cup of tea from Olympus (Image 20)...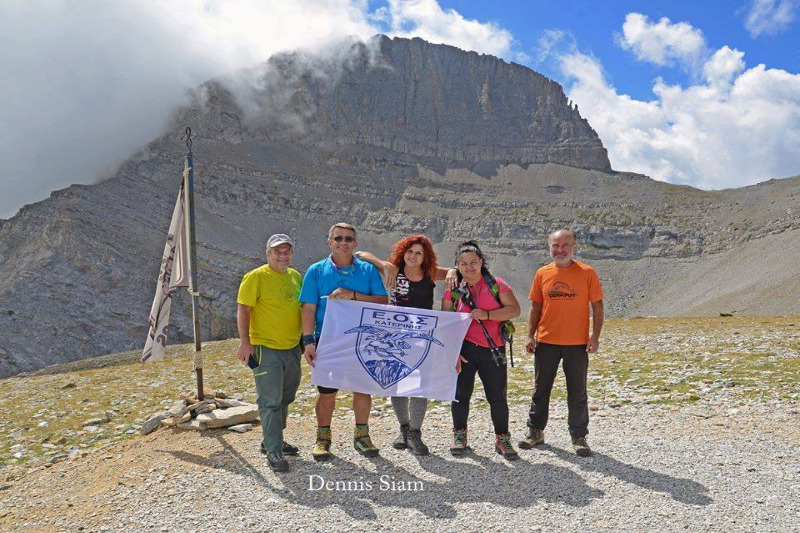 Image 20.
       So, you have reached your destination after 7,4 km in 6 hours and 20 minutes. There are two options from now on: you can spend the night in one of the shelters of the Plateau or you can descend to Sp. Agapitos refuge from Kofto (you can store the routes recommended on your gps device in the form of a xml file to use them in both directions, as the specific route we describe from the Agapitos refuge to the shelter of Kakkalos, which can also be done in the opposite direction from Kakkalos to Sp. Agapitos, as long as it is you have stored on your mobile device).
       The passage of the trail occurred on Friday 7th September 2018, with the company mentioned above, while to the trip from Xanthi to Prionia I was accompanied with my good friend Nikos Karakasis, who I met later that day at the Sp. Agapitos refuge.
       There we met another important man of mountaineering from Katerini, Iliadis Georgios, who told us that we would be considered mountaineers after we climbed the "Edge Barbala".So, we set a new goal for 2019 to cross this route and take the baptism even after 25 years in the mountains of Greece and abroad and here are the proofs (Image 21)...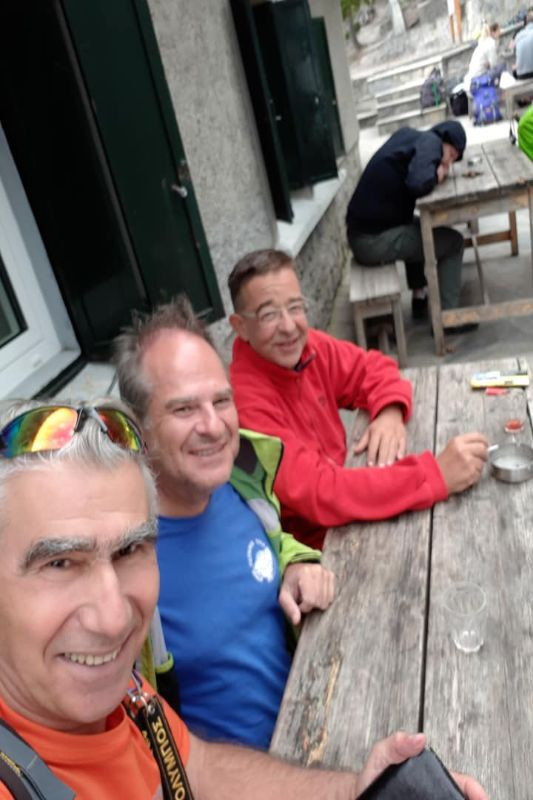 Image 21.
       So, the goal for next year is already set. Stay tuned for our next adventure. Regarding the route of Gomarostalos, the same day we gathered all the information that was mentioned, as well as the photographs included in the narrative of the path. We only have to mention that besides the ascents, the trail does not have any other difficulty that would scare you and it does not intersect with other paths. So, enjoy the route and without being afraid of anything else. We consider ourselves responsible, so we would like to treat those who love Nature and hiking and enjoy learning about new places with the same responsibility. We would also like, if you cross the trail above or any other on our website, to contact us (e-mail: This email address is being protected from spambots. You need JavaScript enabled to view it.) whether we were accurate on our description or there was a flaw that should be corrected.
Thank you for your trust and for visiting our website!!!