Route length: 11,7 km
Duration: 4 hours
Ascent: 829 meters – Descent: 1.565 meters
Route description: Descent- Difficulty: Moderate
Recommended to: all mountaineering clubs and if being careful to children above the age of 8 years old
Season: April to November.
* The information above is given to reach your destination.
       Another wonderful passage that this magical mountain of Gods and all Greeks offers us. A route that passes through Monasteries, bridges and crosses the river Enipeas several times, could not be described other than sensational.
       I had walked this route several years earlier, but I did not remember many of its details. I was eager to find an opportunity to re-freshen it in my memory and to record it with my GPS. It is difficult to hike at lower altitudes when you are on a mountain with 55 peaks over 2.000 meters. Whenever I went to Mount Olympus to cross this route, I failed because other programs were presented during the hiking and other plans were made with the company that I was every time. So, one cancellation succeeded the other. Eventually I put it on purpose and set a date. There were no other excuses, I had to crossit. And I did. Many things which until some time ago I believed about this route were changed. I thought it was easy and I wanted to ascend starting from Litochoro on foot. This does not mean that it is not possible, but because I believe that our site refers to people with little hiking experience, I strongly recommend that they descend the route, as I did, from "Prionia" to "Litochoro". In the information mentioned above, it appears that the ascent is 829 meters and the descent 1.565. If you want to climb it, you should be in very good physical shape, otherwise the data is reversed. The ascent will be 1.565 meters and with a loaded backpack your legs and especially your waist will be strained. So, on a Sunday probably, include this specific route to your main program to cross it. It is the only way to succeed.
General Informations:
       It is a route of 11,7 km total length, all on path, with altitudinal slope (ascent) of 829 meters and descent 1.565 meters. The duration of the trail is 4 hours. There are sings throughout the trail while at crossroads there are signs which inform you where each path leads and which you should follow to reach your destination. Throughout the path there is no mobile service. In general, it is described as a route of medium difficulty and with a little attention it can be crossed by young children familiar with hiking.
Useful Phone Numbers:
- European Emergency Number: 112
- Fire Brigade: 199
- E.K.A.V. (Ambulance Help): 166
- Sp. Agapitos refuge: +302352081800
       All the above are summarized in the following map:
       Click on the word "Wikiloc" on the upper right corner of the map so you can store the route on a Garmin gps device or Androit or Smartphone device. You can also print the information without the illustrations shown below. The tracking of the trail was done using a 650t Montana gps device by Garmin.
The route is also recommended by:
- The restaurant at Prionia,  Olympus (tel. +30 6932 48 48 68, +30 23520 83093) Kyritsis Dimitris
- Prokovas Sakis, taxi driver (+30 693 717 6867).
In Particular:
       There are two ways to cross this route. You can go by taxi to "Prionia" from Litochoro and descend following the path of the Enipeas gorge or you can include the route to the program you have set out during your visit to the mountain of "Gods", make sure someone from the company, who does not want to walk any further, to wait for you with a car at the place that you have agreed in advance. Reaching the "Prionia" location at an altitude of 1.075 meters where the road ends, there is a parking space where many cars are parked, from this point start most of the paths ascending to the mountain and descending from the Enipeas Gorge toLitochoro, a route that will be described below. In the same place there is the cafe-restaurant of Dimitris Kyritsis and his family where you can eat or have coffee at any time of the day (Image 1)...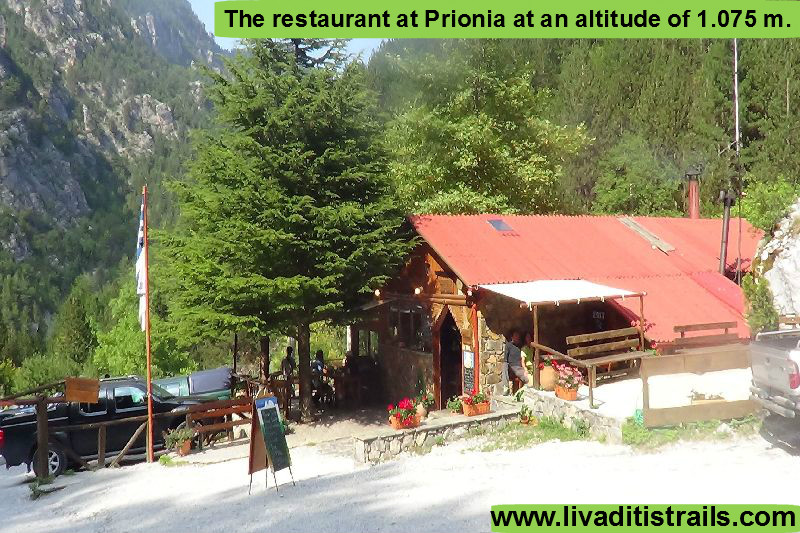 Image 1.
       A little further down the road between the cars you will see a wooden entrance with "E4" signs to the left and to the right, which indicate where the path starts, while in the first meters of the route you will cross the first bridge (Image 2)...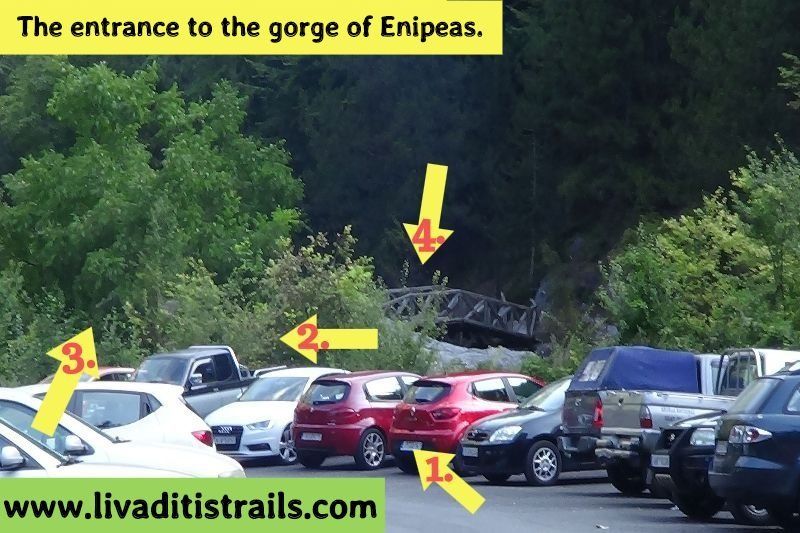 Image 2.
       In the first kilometer of the route, after about 20 minutes you will come across a rural road where you have to turn right and after a while on your left you will find the path (Image 3)...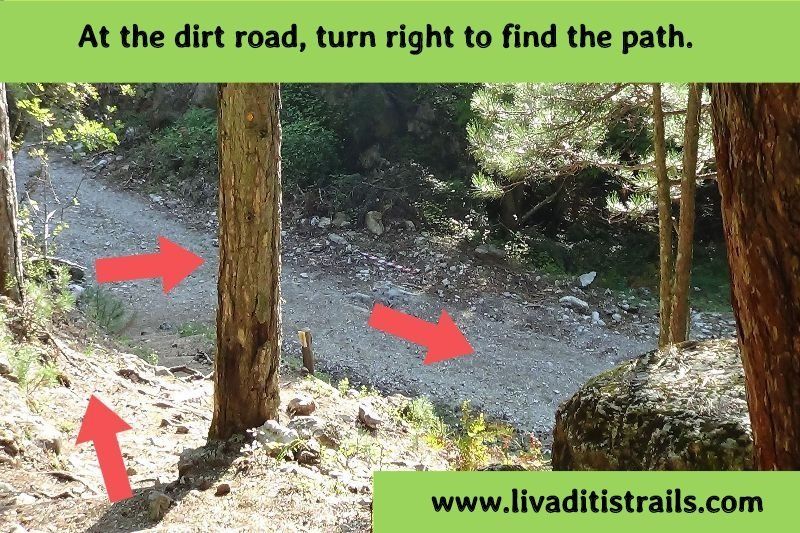 Image 3.
       In 1,5 kilometers after about 25 minutes of walking, there is a sign indicating the direction to the Monastery of St. Dionysios while about 150 meters further below you will meet new sign, a very old and rusty one, which very clearly indicates that you must follow the steps on the left of the path to get to the Monastery. I, unfortunately, did not follow the steps (I could not read the sign) and continued straight ahead, thus failing to reach the monastery of "Saint Dionysios in Olympus" (Image 4)...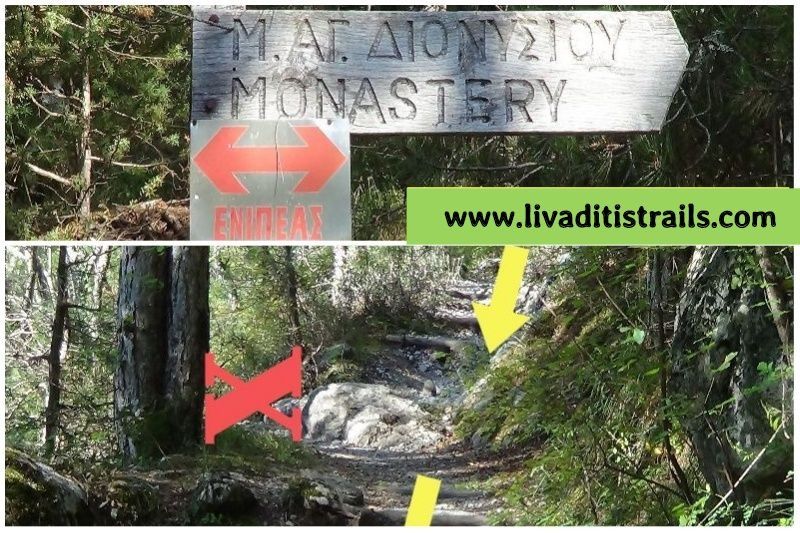 Image 4.
       After another 5 minutes of walking, you reach the second bridge of the route, having walked from the starting point 2,9 km in 50 minutes at an altitude of 825 meters (Image 5)...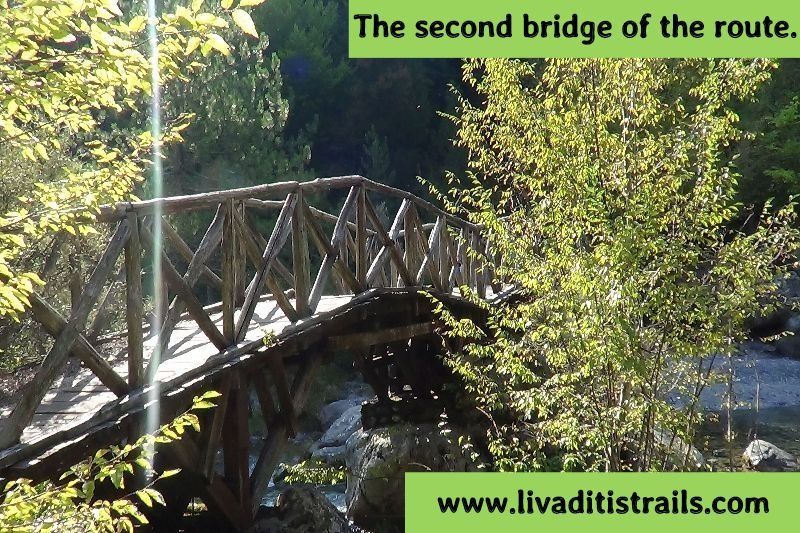 Image 5.
       Immediately after the bridge you will see a small chapel in blue shades dedicated to Saint Dionysios, you will notice that someone has counted and marked 1.030 steps ahead. If you follow the path and count the steps (probably a tall person who marked them and who made big steps), you will notice a slight deviation in the steps to reach AgioSpilaio from where "Holy Water" is sprang. You will arrive after about 25 minutes and after walking 1,1 kilometers at an altitude of 830 meters (Image 6)...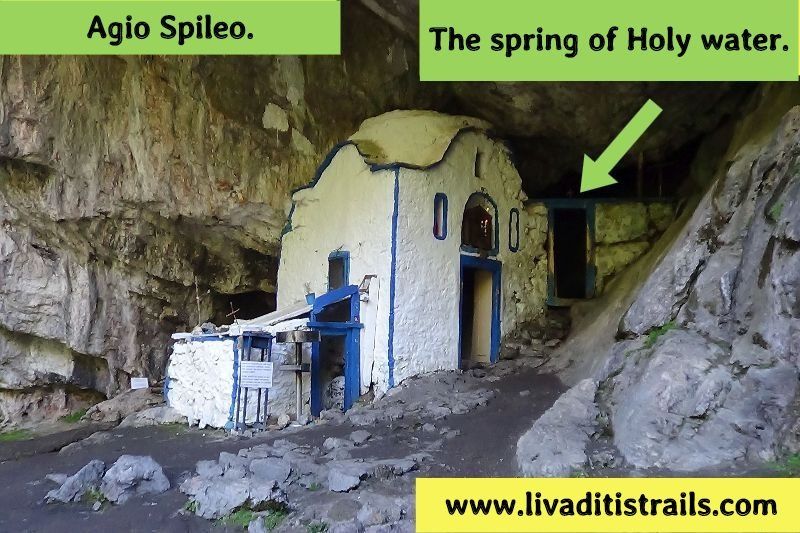 Image 6.
       As soon as you leave Agio Spilaio you need to be very careful as a steep descent waits for you. It is as if the steps had been carved on the rock; you have to descend slowly to avoid danger. About 10 minutes after you pass this rock and 20 minutes in total from AgioSpilaio you cross the third bridge (Image 7) ...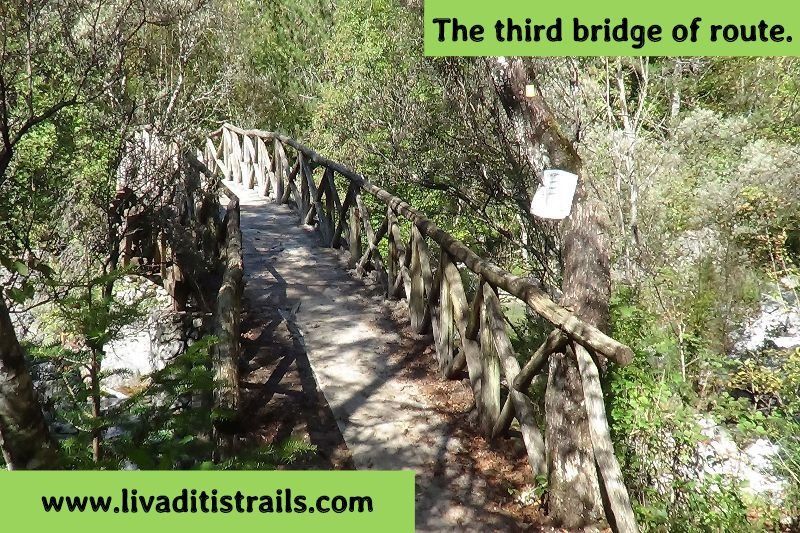 Image 7.
       After 20 minutes you cross the fourth bridge of the route (Image 8)...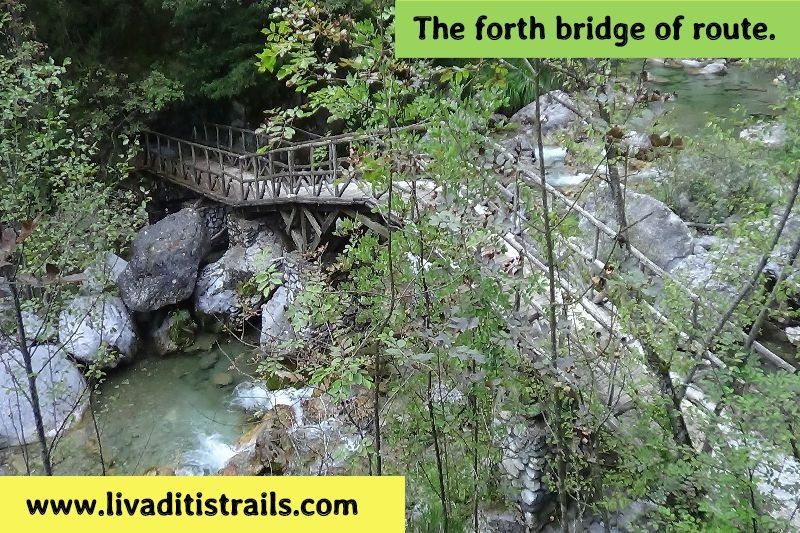 Image 8.
       The route continues and 20 minutes later you cross the fifth bridge of the route (Image 9)...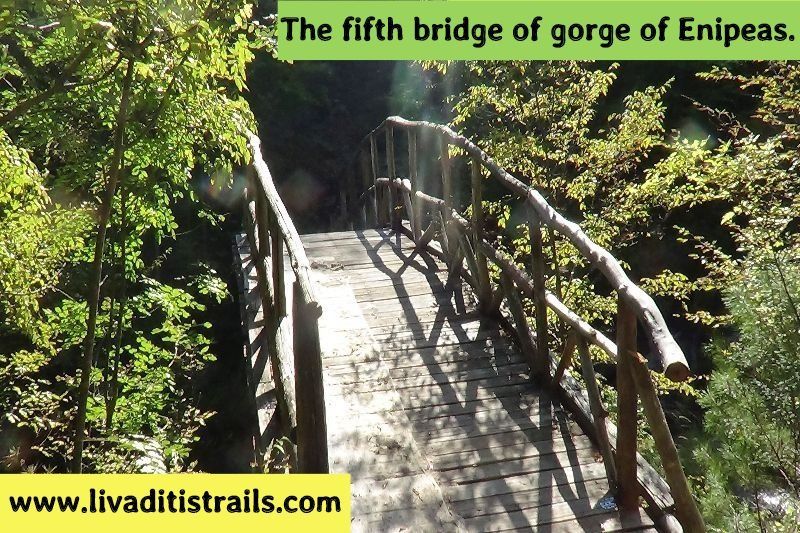 Image 9.
       Whenever you look around you will see the Olympian beauty (Image 10)...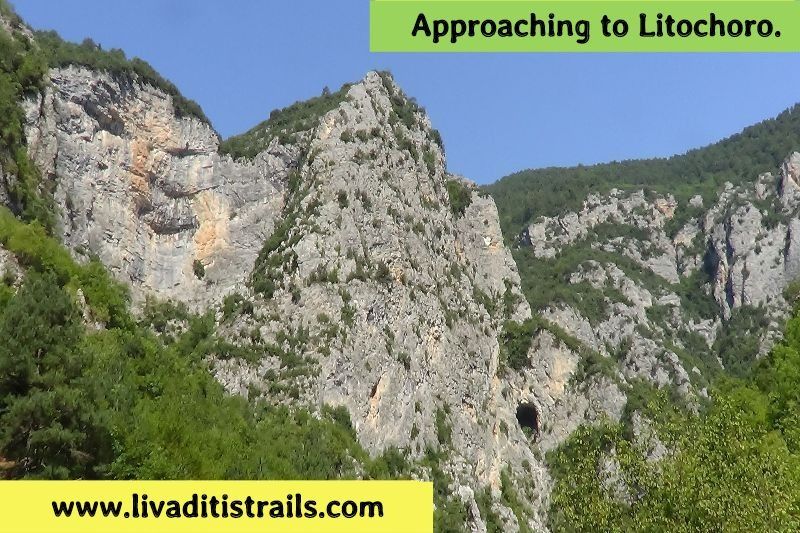 Image 10.
        Finally, at some point you can see Litochoro from a distance, where you slowly approach (Image 11)...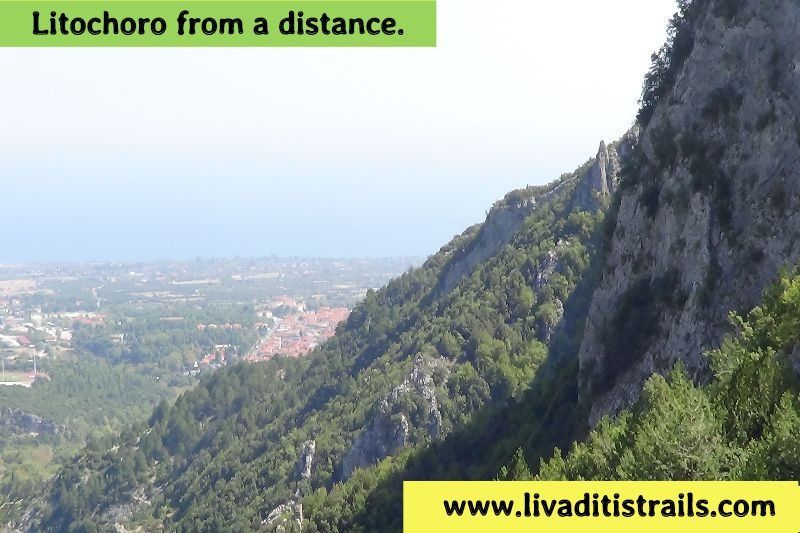 Image 11.
        Throughout the route, Nature is generously providing the most beautiful pictures. You simply have to relax and enjoy it (Image 12)...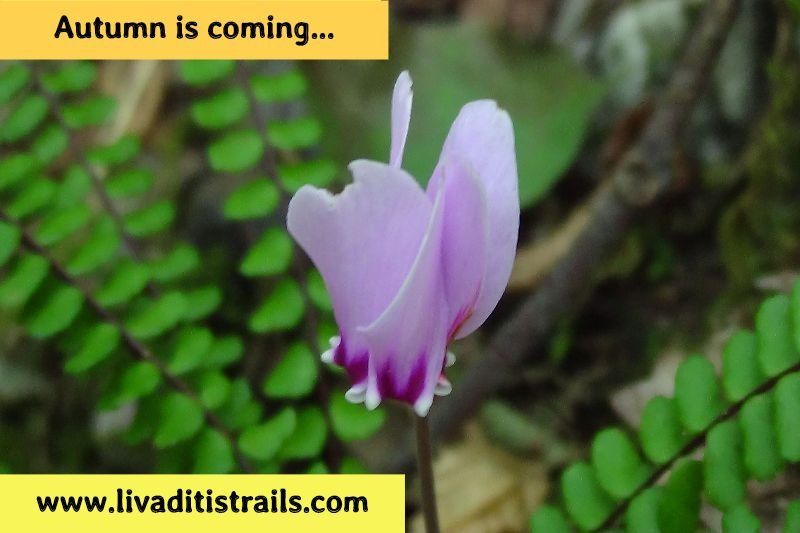 Image 12.
       From the moment you see Litochoro until you reach the village you will need about 30 minutes; you will be taken straight to the concrete road that starts from the restaurant "Myloi" and continues along the river Enipeas a few meters further. From AgioSpilaio until this point you have walked 7,4 km in about 2 hours and 35 minutes and you are at an altitude of 370 meters (Image 13)...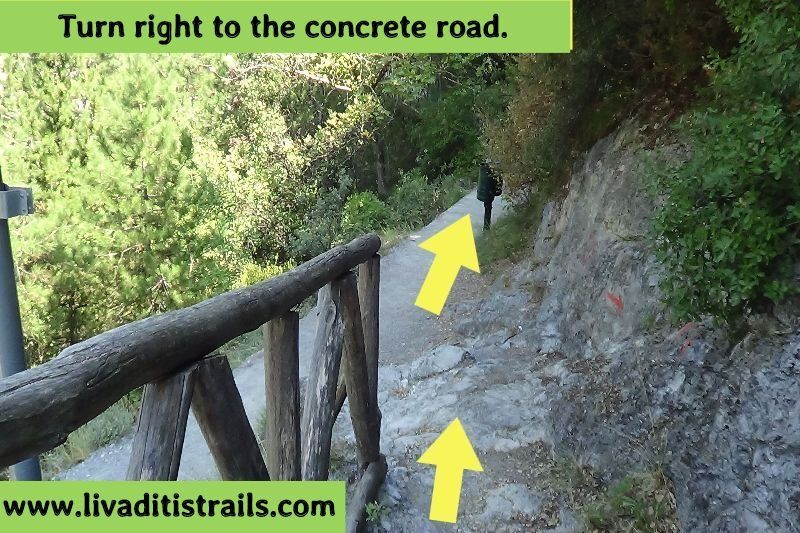 Image 13.
       Finally, you have about 10 more minutes to reach your final destination, at the restaurant "Myloi" (Image 14)...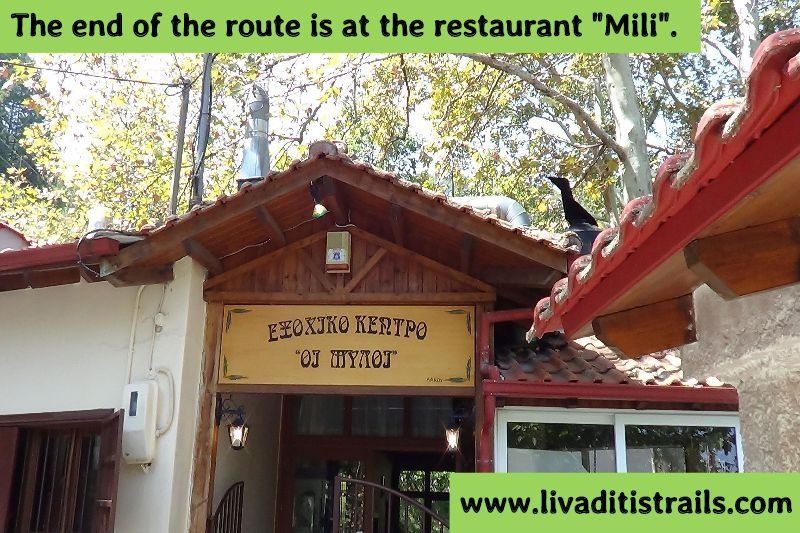 Image 14.
       The passage of the trail occurred on Sunday 9th September 2018; the same day we gathered all the information that was mentioned, as well as the photographs included in the narrative of the path. We only have to mention that besides the ascents, the trail does not have any other difficulty that would scare you and it does not intersect with other paths. So, enjoy the route and without being afraid of anything else. We consider ourselves responsible, so we would like to treat those who love Nature and hiking and enjoy learning about new places with the same responsibility. We would also like, if you cross the trail above or any other on our website, to contact us (e-mail: This email address is being protected from spambots. You need JavaScript enabled to view it. ) whether we were accurate on our description or there was a flaw that should be corrected.
 Thank you for your trust and for visiting our website!!!